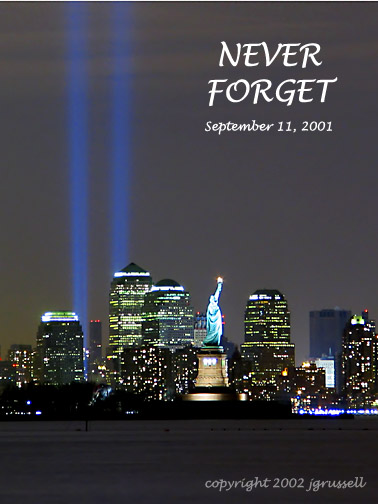 11 Years Later...
It is September 11 again. Outside, it is clear and cool. It will be a sunny crisp September day today... just as it was then. And we pause, as we have paused every year since then, to remember that day. That day. Eleven years ago. September 11, 2001.
As has been the case in each of the years since 2001, this anniversary is marked by official remembrances. At the Pentagon, outside Washington D.C., where nearly 200 people died. At Shanksville, Pennsylvania, where the courageous passengers on United Airlines Flight 93 sent their hijacked plane into the ground to protect the intended target in the nation's capitol, giving the 40 lives of the passengers and crew instead. At Ground Zero, in lower Manhattan, where more than 3,000 people died, immediately or in the days, weeks, months and even years since.
As has been done every year since 2001, the names of those lost at the Twin Towers will be read aloud again today at Ground Zero, by members of the families who lost loved ones. The readers will pause four times for a moment of silence.

At 8:46 a.m., the time when a plane piloted by murderous fanatics slammed into the North Tower of the World Trade Center.


At 9:03 a.m., the time when a second plane piloted by even more murderers slammed into the South Tower.


At 9:37 a.m., the time when a third plane crashed into the Pentagon's west side.


At 9:59 a.m., the time when the South Tower imploded and fell, raining debris and ash on the city.


At 10:03 a.m., when yet a fourth plane crashed into a field in the Pennsylvania countryside.
And at 10:29 a.m., the time when the North Tower fell.
As they have every year since 2001, church bells will ring out across the city to honor those lost. As it has in each of the years since 2001, the tribute of lights, depicted above, will shine into the skies above Ground Zero tonight.
And, once again, we will weep.
I have been writing and posting these 9/11 essays every year since 2001. For nine years, I wrote in anger and despair. It was beyond comprehension that those responsible had not been brought to justice. And then, last year, still angry, but no longer in despair, I could write that the man responsible for that terrible day in 2001 -- Osama bin Laden -- had been brought to justice. Finally. At long last. He was dead.
There is some solace in knowing that he is gone. But still... still we weep.
We weep for all those who were his victims. For those who perished. For those who lost husbands, wives, parents, children. For those who never grew old. For those who never grew up.
We weep for the wounds that are still so raw. Like so many others here, I am still easily brought to tears by reminders of that terrible day. Like so many others here, I cannot watch the memorial programs. I cannot listen to the bagpipes. I cannot bear the photos. I fear that we will never really heal. I don't know if we who have lived through these terrible events will ever fully recover.
We weep for what we all lost that terrible day 11 years ago. An innocence, a sense of security, and a joy in living. The terrible price we have paid for what madmen chose to do to us wasn't just the horrific loss of life. But the loss of a way of life too. We will never be as carefree, as brash, as confident. We will never believe in ourselves, in our safety and our security the way we did before that terrible day.
And we weep for what could have been. Americans stood together after 9/11, shoulder to shoulder, men and women of all colors, sizes, shapes and creeds. Determined. Committed. And above all else, united. Not Republicans or Democrats. Not Christians, Muslims or Jews. Not liberals or conservatives. But Americans all. It was magnificent. And then it was gone, as politics-as-usual took its place.
It continues to be so very tempting, this year as it was last year, to say that we have had enough of grief. To let the physical memorials take the place of the horrific memories of that terrible day. To say that it is time to look forward and not back.
But I made a promise that September all those years ago. A solemn pledge that I would remember. It is time now to keep that pledge on this anniversary. It is time again to remember. To open, once more, the film cannister into which I brushed some of the dust of Ground Zero. To touch that dust with my own hands. And, once again, to stand witness. To make sure that I do not forget. That we do not forget. That no-one forgets. That all those lives will never be forgotten.
To say, one more time, this year and every year, as long as I have life and breath, in words and images, NEVER FORGET.